Determined to come out of hiding and return to something resembling normal life, Camille invents a new identity for herself as 'cousin Alice'. Meanwhile, her sister Lena finds a strange, fast-spreading scar on her own body. Simon gets closer to Adele, who finally accepts he has returned and is not a manifestation of her grief. But as the dead try to reclaim their lives, for the living, things seem more and more disturbed. Julie's dark past resurfaces and threatens to destroy her completely.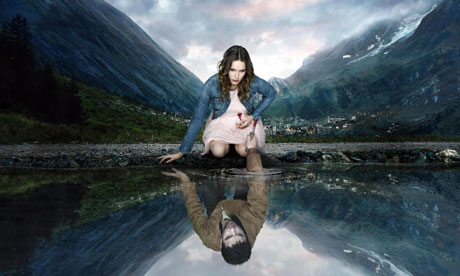 "Curiouser and curiouser," cousin Alice might have said.  The living were increasingly challenged by the returning dead in this episode. Camille asked her dad for cigarettes  arguing that she was hardly likely to get cancer but her older twin's scar was spreading up her back. Camille began to act more and more grown up choosing clothes which were more suitable for the age she would have been if she hadn't lost 7 years. Sibling rivalry continued apace with both girls going for Frederick in just the same way they had prior to the accident. Silly Frederick was more concerned about the scar on Lena's back and his big moment was lost.
Simon was released from jail but instead of going to the Helping Hand sought out Julie at the library, keeping the artifice going that she was imagining his appearances. He hadn't been that keen on them settling down once he realised she was pregnant and perhaps saw this as an easy exit but once he saw his daughter at school he decided to stay. His every move however was being observed by his ex fiancee's husband.
Freaky child – Victor – immediately went across the hallway to the nosy neighbour as soon as Julie left the apartment. We found out that Julie had been attacked several years before and her lover, who is one of the investigating officers, hadn't contacted her since. Julie's scars also seemed worse when she got out of the bath to answer the door. Her memories of her attack came to the fore and she almost succeeded in killing herself with scissors but the child saved her – seeming to understand.Too bad he wasn't so understanding of the crazy cat lady.
The dam continued to drain away although no breach of the walls could be found and the pub toilets were blocked by stinking dirty water and, just as the butterfly coming back started off the series, a plague of insects infested the home of Camille and Lena in the form of flies devouring a rotting carcass of something in the kitchen bin. It seemed to be a precursor of the final scene of the cats feasting on their former owner. Cats eh – who'd have them?
Professional blog here:
http://www.guardian.co.uk/tv-and-radio/tvandradioblog/2013/jun/23/returned-recap-series-one-episode-three-julie